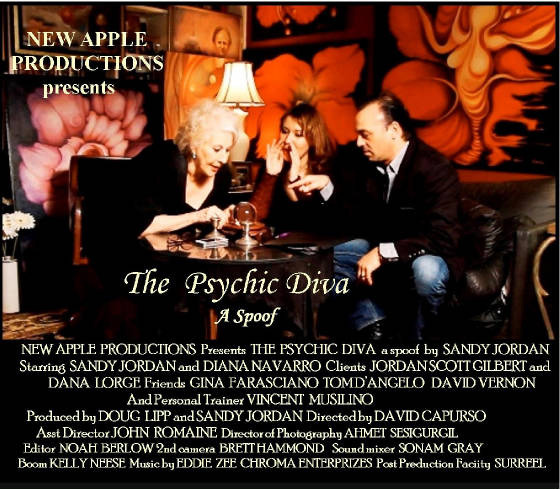 The Psychic Diva is a "spoof", a hilarious take on the world of two very dedicated and not so psychic psychics, their showbiz clients and wacky friends. We meet Jordana, her sidekick Diana, two clients, as well as some friends who drop in. Readings are held in Jordana's haunted art studio. This show is dedicated to our dear friend, Dana Lorge RIP.
"THE PSYCHIC DIVA"
Jordana & Diana with neighbor Tom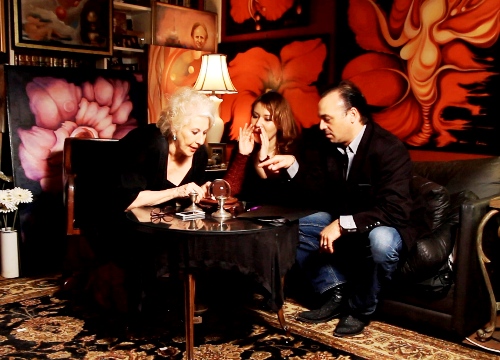 buy unique wearable art gifts at Jordan's Wearable Art Editions Zazzle
PEOPLE ARE INTERESTED IN THE PARANORMAL TODAY MORE THAN EVER BEFORE. THERE HAVE BEEN NUMBERS OF SHOWS, LIKE THE MEDIUM, GHOST WHISPERER, JOHN EDWARD, AND MANY MANY OTHERS. EVERY YEAR THERE ARE MORE SHOWS DEALING WITH THE OTHER SIDE, GHOST HUNTERS, AND VARIOUS PSYCHIC INVESTIGATORS.
TO DATE THERE IS NOT ONE COMEDIC LOOK AT THOSE WHO EARN THEIR LIVING IN THE WORLD OF THE PARANORMAL THE PSYCHICS, THE INTUITIVE COUNSELORS, THE MEDIUMS, UNTIL NOW.
THE PSYCHICS, (PSYCHOS?) IS A HUMOROUS TAKE ON THE PSYCHIC WORLD.

WE ATTEMPT TO JOIN THE NORMAL WITH THE PARANORMAL, ( OIL WITH WATER?) THIS SHOW IS A SPOOF. WE DEAL WITH REAL SITUATIONS, REAL CLIENTS, IN A FUNLOVING AND VERY HUMOROUS WAY,
WE HAVE A CAST OF CHARACTERS THAT JOIN US MOST WEEKS, GINA OUR BOY CRAZY GIRL, TOM OUR PAIN IN THE ASS NEIGHBOR, VINNY OUR PERSONAL TRAINER, OUR DAVID DAHLING OUR ET, LORI OUR NUTTY LIFE COACH AMONG OTHERS.
ACTORS JOIN US IN FUN ROLES, MANY CREATING THEIR OWN CHARACTERS. THIS SHOW WILL BE DIFFERENT EVERY WEEK, WAY OUT, YET ALWAYS SLANTED TOWARDS THE POSITIVE SIDE OF EVERY ISSUE. WE WILL ADD GUEST MEDIUMS TO JOIN US ON OCCASION. THE PSYCHIC READINGS WILL ALWAYS BE REAL WHETHER BY US OR OUT GUEST READERS. THERE ARE A PLETHORA OF EXPERTS IN THE PSYCHIC SCIENCES, FROM MEDIUMS TO PET PSYCHICS TO CLAIRVOYANTS, CLAIRAUDIENTS TO REMOTE VIEWERS AND CHANNELERS.
EACH SHOW WILL INTRODUCE NEW FASCINATING PEOPLE, WRITERS, CHEFS, SINGERS, ACTORS, POLITICIANS, ARTISTS, ALL SORTS OF PEOPLE, FAMOUS, INFAMOUS AND AS WELL AS

THE AVERAGE PERSON. TO DATE I HAVE LISTS OF PEOPLE WANTING READINGS ON THE SHOW AND ALL WILLING TO BE FILMED. (CHECK THE LI MEDIUM THERE ARE MANY VERY WILLING TO DO THIS)
WE WILL SHOOT IN OUR HOME STUDIO AS WELL AS LOCATIONS. EXAMPLE, OUT TO DINNER, IN A NIGHTCLUB, HAIR SALON…MANY FUN LOCATIONS HAVE ASKED ME TO SHOOT.